KOA's O'Rourke Named To Ad Age '40 Under 40′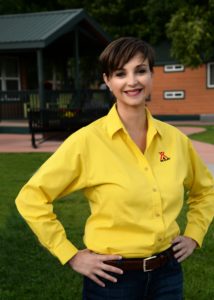 May 17, 2017
KOA NEWS SERVICE (March 20, 2017) – Kampgrounds of America Inc. Chief Franchise Operations Officer Toby O'Rourke has been named to the 2017 Ad Age "40 Under 40" list.
The significant national award honors those under age 40 who have made significant contributions to the success of their companies through innovation and extraordinary leadership.
"These are the forward thinkers. Risk-takers. Rainmakers," said officials with Ad Age Magazine. "Our 2017 class is an eclectic group of movers in the worlds of media, marketing, tech and advertising."
All of the winners will be honored at an awards celebration Tuesday, March 20 at the Hard Rock Cafe on Times Square in New York City.
O'Rourke joined KOA in 2011 as its digital marketing director. She quickly transitioned the company's traditional print marketing to a targeted digital marketing effort. Record financial and performance results followed, and she was promoted to Senior Vice President of Marketing.
Four more record years followed and in early 2016 she was promoted to her current role as Chief Franchise Operations Officer for Kampgrounds of America Inc.
In 2016 she helped lead KOA to the best year in its 55-year history. KOA is currently on track for yet another record year in 2017.
O'Rourke also led her KOA team in repositioning 300 of the company's 500 locations into new sub-brands as well as refining KOA's "What's Behind The Yellow Sign?" advertising campaign. Her public relations team also worked with her to increase PR impressions for KOA by more than 128 percent, primarily through the use of the KOA-driven North American Camping Report (the current reprt is available at www.koapressroom.com.
The complete list of Ad Age 40 Under 40 winners is available at:
http://adage.com/article/special-report-40-under-40/meet-ad-age-s-2017-40-40/308139/