KOA Wins Prestigious PR Week National Award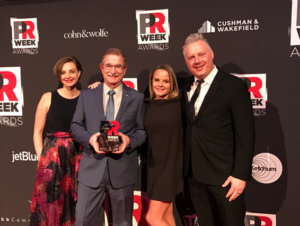 May 17, 2017
KOA NEWS SERVICE (March 20, 2017) – Kampgrounds of America Inc. received the highest accolade in the public relations industry March 16 when it received the prestigious 2017 PR Week Award for its use of analytics for the 2016 Edition of ther North American Camping Report.
The award was presented to KOA and its PR partner, Allison+Partners, on March 16 during a ceremony at the Cipriani Wall Street in New York City. It was one of just 38 awards presented to the top agencies and national campaigns in the public relations industry.
All award entries were judged by a panel of more than 100 top public relations professionals.
"The Kampgrounds of America program was a great effort," said one judge. "Solid data insights led to positive business results."
The North American Camping Report is an independent annual study of North American camper habits and desires conducted by KOA and Cairn Consulting. The results are used to guide KOA's PR and marketing efforts and shared with the outdoor industry in order to increase the impact of the outdoors sector in the lives of campers.
The use of the North American Camping Report in KOA's public relations and marketing efforts in 2016 led to a 6 percent increase in occupancy and a more than 13 percent rise is registration revenues. New camper business rose by 14 percent and camper nights rose by 10 percent.
The 2017 Edition of the North American Camping Report has just been released, and a digital version is available for viewing and downloading at http://www.koapressroom.com.