Fourth of July & Canada Day Numbers Up At KOA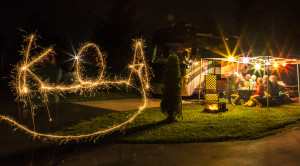 July 6, 2015
KOA NEWS SERVICE (July 6, 2015) – Campers continue to flock to Kampgrounds of America locations this summer.
Figures for the recent Fourth of July Weekend show KOA camper nights up nearly 6 percent from the Fourth of July Weekend in 2014. Holiday results for the July 1 Canada Day Celebration at the 32 Canadian KOA parks were even more impressive, with a 25 percent increase in camper nights.
A camper night is measured as one campsite or Cabin accommodation being occupied for one night, much the same as a room night is measured in the hotel industry.
KOA's Care Camps Big Weekend event May 8-9 started the summer season's strong performance, with an increase of 5.5 percent in reservations. Canada's Victoria Day Weekend on May 16-18 was up nearly 13 percent. Memorial Day Weekend came next, with a nearly 7 percent climb in reservations compared to 2014.
Father's Day Weekend at KOA was also strong, with camper nights up nearly 13 percent compared to the same weekend in 2014.
Year to date, short-term camper nights at KOA are up nearly 11 percent for the entire North American system. Advanced reservations for the remainder of the summer camping season are up about 10 percent.
Kampgrounds of America is celebrating its 53rd Anniversary in 2015. KOA, the world's largest network of family-friendly campgrounds with 485 locations in North America, was born on the banks of the Yellowstone River in Billings, Montana in 1962. For more information, go to www.KOA.com or visit the KOA Pressroom at www.koapressroom.com.