KOA History
Kampgrounds of America: Born on The Banks of the Yellowstone River
Billings, Montana-based Kampgrounds of America was born during an era when cars sported fins, rock and roll was brand new and Americans were hitting the road in record numbers.
During the summer of 1962, Billings was inundated with travelers heading to the popular Seattle Worlds Fair via U.S. Highway 10, years before Interstate 90 was built.
Local businessmen Dave Drum, John Wallace and two partners set up a modest campground on Drum's property near what is now Riverfront Park just north of the Yellowstone River.
Jim Graff, a former KOA executive who now bears the title of archivist, said squatters who were rousted out of city parks were sent to the establishment, known as the Billings Campground.
In exchange for the $1.75-per-night fee, travelers pitched their tents on a campsite outfitted with a picnic table and a fire ring. The campground offered a store, laundry facilities and a hot shower.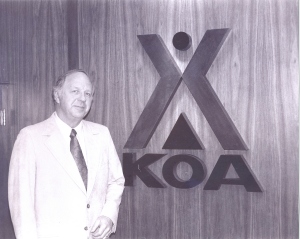 Ray Possley of Illinois stopped in Billings after driving to the Seattle Worlds Fair. His Dodge motor home was one of the first recreational vehicles to register at the Billings Campground.
The next year, Wallace mailed surveys to 500 customers to gather their impressions of their stay in Billings.
His 42-question survey was likely considered cutting-edge market research for the era, and Wallace was surprised at the amount of positive feedback that the survey yielded.
Survey respondents indicated the need for a nationwide network of modern campgrounds, and soon Kampgrounds of America was born.
The Billings businessmen were certain that well-heeled lodging companies would also become interested in developing campgrounds, and they decided the best way to finance a rapid expansion would be to offer franchises, which was a fairly new business concept at the time.
In a franchise arrangement, the franchisee pays the parent company a franchise fee, and usually a percentage of sales, in exchange for support in advertising, marketing and other services.
Since its humble beginnings, KOA has become synonymous with camping and is an integral part of the American lexicon. The tepee-shaped KOA logo, designed by Karlo Fujiwara, has become a highly recognizable brand. Fujiwara suggested spelling campground with a K, because it added distinction and enhanced the look of the logo.
The website Crossword Tracker has compiled at least 20 references to KOA in crossword puzzles published in national newspapers over the past six years. The clues include "Big initials in camping," "RV rest stop" and "Place to overnight in an RV."
In the early years, KOA had many competitors. Salesmen who fanned out across the country concentrated on expanding its territory.
The first KOA franchise opened in Cody, Wyo., in 1964, the same year that Drum put together the first KOA franchise convention in Billings.
KOA became a public company in 1969 after a successful initial public offering, and the company enjoyed steady growth, with campgrounds opening in Mexico and Canada by 1972.
But the oil embargoes of 1973 and 1979 took a toll on the company as Americans thought twice about hitting the road. KOA hung on, but many of its competitors fell by the wayside.
New York City financier Oscar Tang, who was a major shareholder at the time, bought KOA after the 1979 oil crisis had tanked the stock price.
"It was a very attractively priced asset," Tang said in a recent interview.
"It's a good financial business, and it's the only national chain of campgrounds in the country," Tang said. "That makes it attractive."