Welcome to your single source for photos, videos, news and facts regarding North America's premiere camping venue.
Kampgrounds of America (KOA) is the world's largest system of open-to-the-public campgrounds. There are more than 525 KOA campgrounds. There are KOA campgrounds in nearly every U.S. state (except Hawaii and Rhode Island) and in the Canadian provinces of British Columbia, Alberta, Manitoba, Ontario, Quebec, New Brunswick, Nova Scotia, Prince Edward Island and Newfoundland.
As the industry leader in outdoor hospitality, the KOA Family of Campgrounds – KOA Journey®, KOA Holiday®, and KOA Resort® – offer sites and amenities designed for every type of camping experience.
KOA is a franchising company, and each KOA franchisee owns and operates their own campground while taking advantage of KOA's marketing and operational support.
Feel free to take your time, look around and get a feel for what family camping at KOA is all about. If you have questions or immediate needs, email the KOA Newsroom at newsroom@koa.net.
2021 North American Camping Report: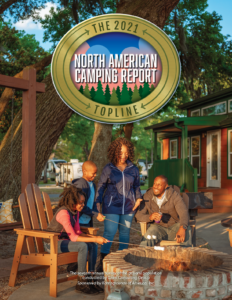 The annual North American Camping Report is an industry-leading research initiative that shares insights on the behaviors and attitudes of North American campers. The 2021 report provides a detailed look at the camping behaviors and trends from the year prior (2020) across North America. Participant campers were surveyed in January 2021, and the data reflects an intimate look at how COVID-19 impacted camping activity in 2020. To learn more, download the report HERE.
THE GROWTH OF CAMPING AMID COVID-19: FALL 2020 UPDATE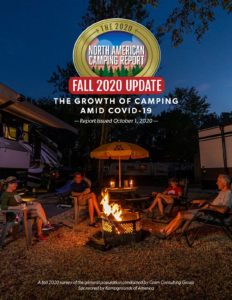 The COVID-19 Fall 2020 Update to the North American Camping Report surveyed general leisure travelers September 4-9, 2020 to understand if behavior and sentiment toward camping had changed from initial reporting conducted in May 2020. At the time, data reflected an increase in activity from initial projections in May, and also showed that many travelers now considered themselves "campers," having taken their first camping trip during the pandemic. This Special Report from Fall 2020 is a supplement to the 2021 North American Camping Report, which is the most current look at North American camping behavior in 2020. Download the report HERE.
PREVIOUS YEAR'S NORTH AMERICAN CAMPING REPORT EDITIONS:
The 2015 Edition is available HERE.
The 2016 Edition is available HERE.
The 2017 Edition is available HERE.
The 2018 Edition is available HERE.
The 2019 Edition is available HERE.
The 2020 Edition is available HERE.
Special Report: The Growth of Camping Amid COVID 19: May 2020 is available HERE.
2019 North American Glamping Report Sponsored By KOA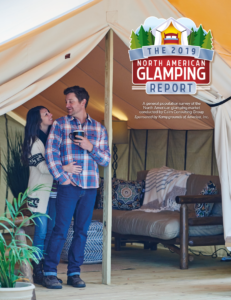 The 2019 North American Glamping Report, sponsored by Kampgrounds of America, is the first-of-its-kind, scientific look at trends in glamping. Glamping, or "glamorous camping," is a phenomenon that is quickly gaining momentum across all outdoor demographics, especially among Millennials and their families. The digital version of the report is made available for viewing and downloading HERE. To acquire high-resolution images of photos or charts from the report, contact newsroom@koa.net.
Media Camping Request Forms
Kampgrounds of America, Inc. is pleased to offer assistance to journalists working on stories about the KOA camping experience. Please complete the questionnaire, which helps us gain a better understanding about the media you will be representing during your visit and your proposed story ideas.
Due to the large volume of requests, we are only able to respond to and accommodate media who align with our target audiences and have a substantial readership or viewership. If interested, a Kampgrounds of America public relations representative will follow up within five (5) working days. If you are submitting this questionnaire within one month of your desired travel dates, we may not be able to assist you based upon evaluation, accommodation availability and coordination of all travel logistics.
Thank you for your interest in Kampgrounds of America, and happy camping!
Browse Media Categories